Signia® Multi Print Pendant + Chain
The Signia® Multi Print Pendant is a beautiful way to celebrate the love and connection between family and friends. Add up to four fingerprints to create a pendant that will be cherished for generations to come.
Starting from $1,910.00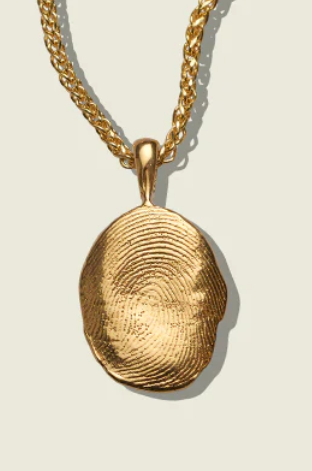 Clean Edge
vs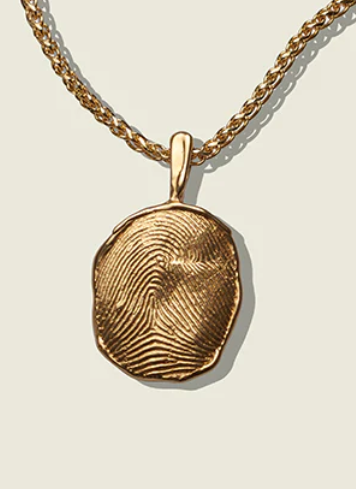 Molten Edge
Available only in Classic 9k & 18k Yellow, Rose and White Gold. 
Include up to 4 prints on the 1 pendant.
Featured is 3 prints on our Classic Signia® Multi Print Pendant. 
IMPRESSION PROCESS 
Each of our impression pieces are handmade and are forged in such a way that the genuine fingerprint and its intricacies are cast onto the pendant itself. Our impression range is an ode to capturing treasured moments of time – a piece of your heart that can be worn and cherished forever.  
Once you have placed an order on a piece from our Signia® Collection, we will send you out one of our Impression Kits via express post. Within this kit is our special non-toxic impression putty, detailed instructions plus all return shipping documents. 
Before attempting your impressions, it is important you watch the video tutorial located via the QR code inside your box. While the process is nice and easy, there are a few key pieces of information that you must watch to ensure you get the best impression. 
Please reach out to us at info@ribsanddust.com if you have any questions after watching the video tutorial.  
Once we receive your prints back in the Studio, we will check they are suitable to craft your piece. Once we have confirmed with you that your prints are great, we will then forge them into your beautiful custom piece. This usually takes between 8-10 weeks but if you need your piece by a specific date, please contact us before placing your order. We always do our best to accommodate your required timing. 
If you send in prints that aren't legible, you will be charged $30 for a second kit to be sent to you via express post. 
CLASSIC PENDANT
We are able to craft your Signia® Multi Print Pendant in one size only - Classic. Each pendant is unique to the print and will vary slightly to other pendants. 
CUSTOMISATIONS

Each piece of our impression range is made to order and as such, each piece will vary slightly in shape and individual nature. All of our Signia® Collection can be customised and enhanced with precious stones, engravings, etc. so get in touch with us to see how we can make your piece extra special. 
Our Signia® Pendants come with a standard 45cm Chain in the matching material to the pendant selected. If you require a custom length or a different style chain, we can definitely help you out with this. 
A range of beautiful diamond accent pendants are available to add to your piece via our site. If you can't find exactly what you are after, please get in touch as we will quote you separately for this particular piece.
CHAIN

Our Signia® Multi Print Pendants come with a standard 45cm Chain in the matching material to the pendant selected. If you require a custom length or a different style chain, we can definitely help you out with this. 
Please take some time to read through the our terms and conditions. By purchasing a product through our store, you are agreeing to these conditions.
Ribs & Dust pieces are built to last. However, it is important to understand that despite the utmost care being taken, wear and tear is a part of life. 
Your pieces will subtly change over time as they are made of precious, malleable metals and natural stones.
Exposure to elements such as chemical compounds, dirty water, humidity and moisture, make-up and cosmetics can also amplify these subtle changes by causing discolouration or oxidization to your piece.
Whilst we want you to wear your Ribs & Dust jewellery at all times, we recommend that you use your common sense and safely store your piece away during certain activities that may cause undue damage to it.  
Cleaning Tip:  
To clean your Ribs & Dust jewellery, you can either pop into our studio for a quick polish and clean or alternatively you can do it yourself from home. To clean your piece at home you just need to wash it with mild, soapy water and brush it gently with a toothbrush or soft cloth. After washing the piece, rinse it thoroughly with fresh water and dry it with a soft cloth.
All of our Australian orders are shipped via Express Post and should be received within 3-5 business days. Both Australian and International orders should receive a tracking number. Shipping times for International orders are dependent on the respective country's custom and postal carrier procedure's. Delays caused by international custom procedures are beyond our control. If you have any further questions regarding shipping, please send us an email at info@ribsanddust.com. 
Craft your story
If you'd like to customise this product, please make an enquiry below and one of our team will contact you shortly.